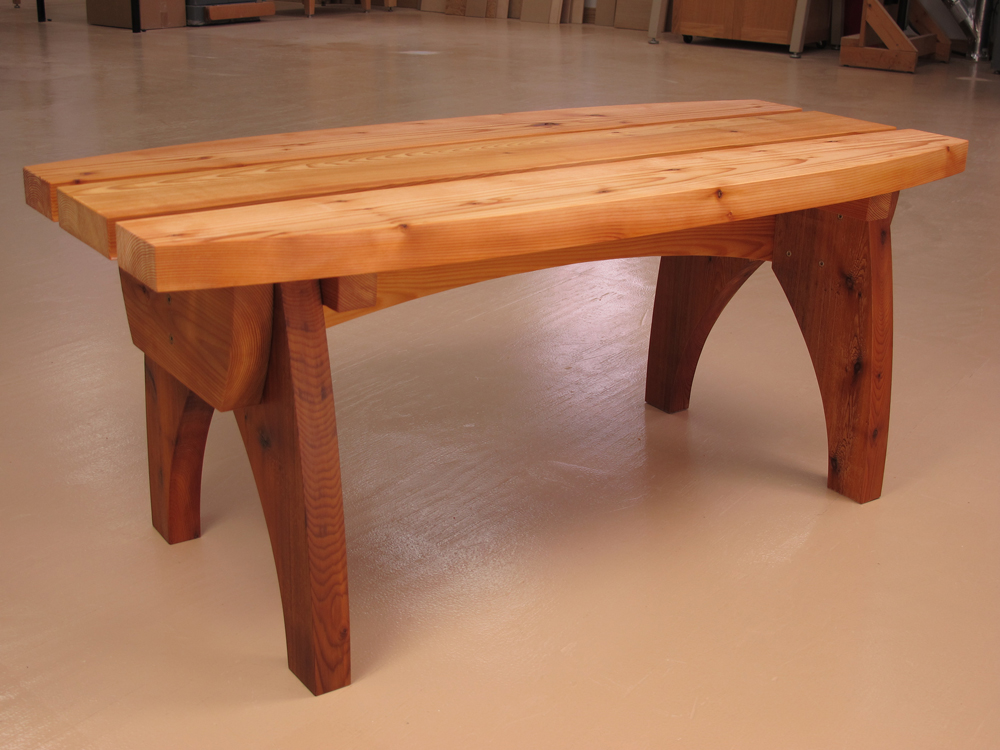 I designed these outdoor bench plans to be simple and fast to build. I wanted it to have lots of curves with minimal templates, and I wanted it to have very few screw heads exposed on the outer surfaces. My wife loves it! I made it using construction grade cedar and finished it with a clear exterior sealer. Cedar is great for outdoor projects since it's rot and bug resistant. I bought rough sawn 2″ thick cedar boards from my local home center, and then I planed them down to 1-1/2″ thick. I prefer to work this way because doing so gives me better results with my finished pieces. Dimensioned lumber would be fine too if you want to save some time.
Tools required:
Table saw.
Planer (optional).
Jointer (optional).
Band saw or jigsaw.
Orbital sander.
Stationary belt or disc sander (optional, but helpful).
Drill
Bar clamps, 12″ opening.
Outdoor Bench Plans:
Cedar is easy to machine but very soft, so be careful not to mar it while you build your outdoor bench, and be careful when driving your screws so you don't set the screw heads too deep, which is pretty easy to do. Cedar can vary greatly in color ranging from a light cream color (sapwood) to a rich dark brown (heartwood). I used a darker board for the legs, and lighter boards for the other pieces. I feel the contrast makes it a more interesting piece. I use clear sealer on my cedar projects because it gives them a "furniture" look, which I prefer. You could skip the finish all together, or use an opaque colored deck stain to make the wood look completely different.
Outdoor woodworking projects require weatherproof screws and waterproof glue. Your local home center or hardware store should have the screws and glue you need, but if they don't, then you can buy them online (see sources below).
Step 1
Review the two perspective illustrations to get a feel for the bench design and construction.


Step 2
Make the two templates.

Step 3
Cut all the parts to size using the cutting list and cutting diagram.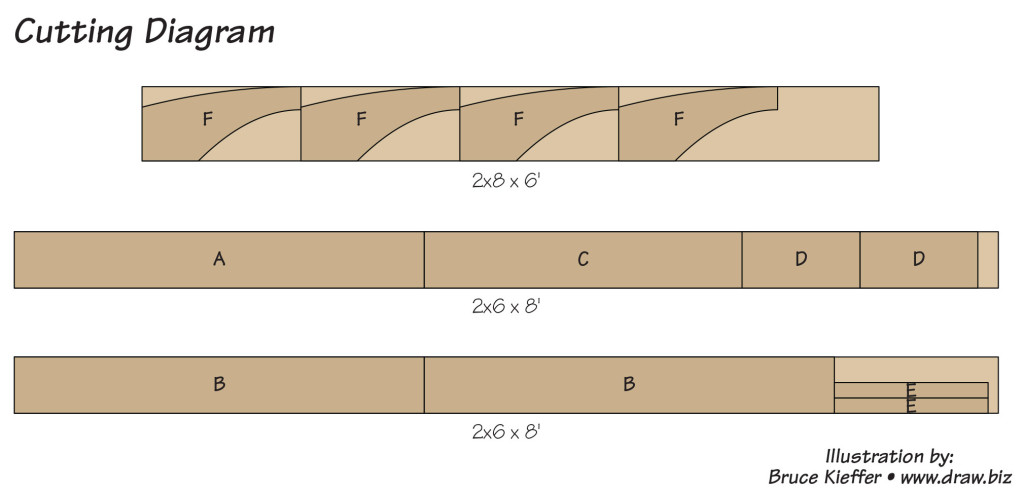 Step 4
Cut the batten notches (E) in the cross support (C). Be careful not to cut them too deep or too wide. Use the templates to trace the shapes to your workpieces. Cut out the shapes, sand the sawn edges smooth, and then lay out and drill the holes. Finish sand all the parts, and ease all the exposed edges with sandpaper.
Step 5
Screw the battens (E) to the cross support (C), then screw and glue the legs (F) to the battens.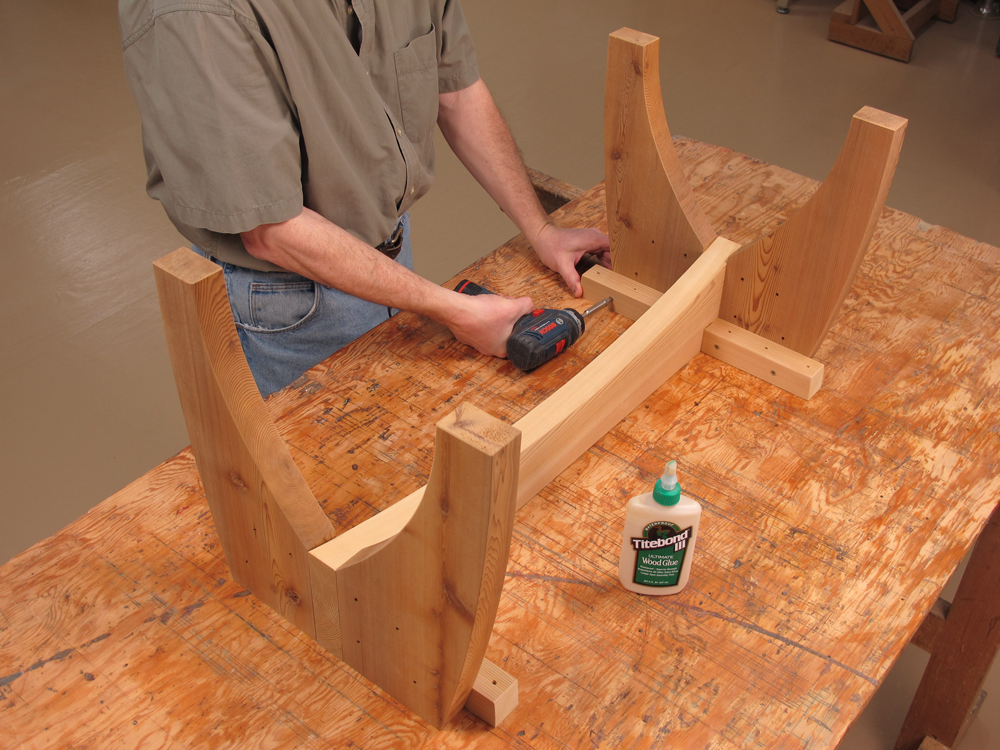 Step 6
Screw and glue the end caps (D) to the ends of the cross support, and to the legs. Align the center slat (A) centered on the base, and screw and glue it to the battens. Add the outside slats (B).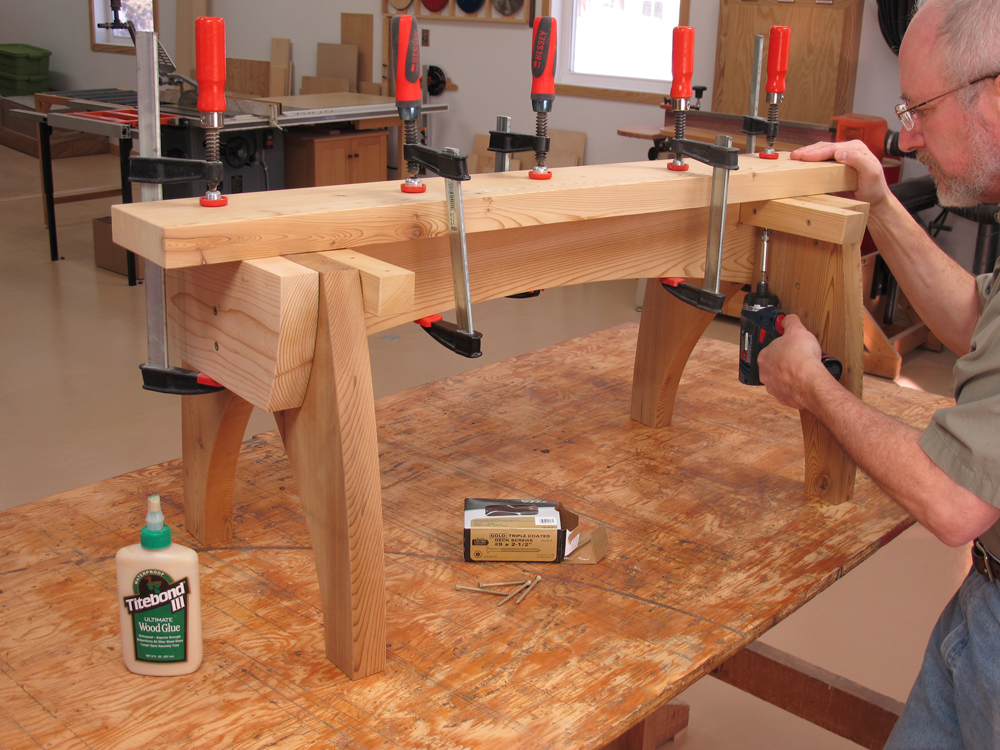 Step 7
Wipe on an outdoor oil finish or sealer. Let the finish penetrate into the wood for 15 to 30 minutes, then use paper towels to wipe off any excess finish. Be mindful of how you discard of the finish soaked rags to avoid a fire caused by spontaneous combustion.
Sources
Titebond III Ultimate Wood Glue, 4 oz., item #29332
Outdoor oil finish, quart, item #64980
Rockler
http://www.rockler.com
(800) 279-4441
No. 9 X 2-1/2″ exterior screws, item SRWBTX9-1
No. 10 X 3-1/2″ exterior screws, item SRWHDB-1
http://www.diyhomecenter.com/screw-products/
(888) 349-4660
All Woodworking Articles, Featured Articles, Woodworking Projects