No doubt about it, AWFS is a rich source for new and amazing woodworking products from hand tools to computerized robotics. But there's more to AWFS than just machines and tools; there's a human side as well. This year's AWFS fair showcased a number of educational initiatives aimed at young and aspiring woodworkers.

Fresh Wood Student Competition
For starters, there's the Fresh Wood Student Competition. Billed as "the best of woodworking's next generation" it has been an AWFS feature since 1999. The competition showcases some of the best work to come out of our nations active woodworking programs at secondary and post secondary schools. Submissions are accepted from full or part-time students in North America who are transitioning into a career in woodworking or design. Each student must be enrolled in an accredited high school or post secondary school woodworking or related industry program.
Here's a small sample from the show:


"Big B"
Bryan Eyerly
Ontario High School
Mansfield, Ohio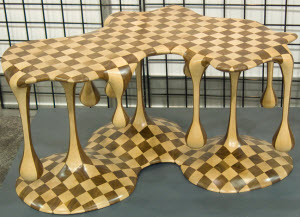 "Table For Dali"
Adam Kessler
Buffalo State College,
Buffalo, NY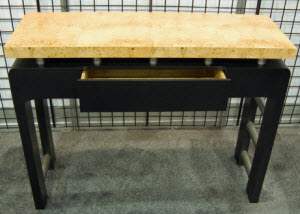 "Year of the Rabbit" Hall Table
Leanne Allen
Selkirk College,
Nelson BC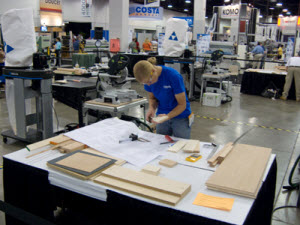 Worldskills Cabinetmaking Qualifying Trials
Another youth oriented educational event was featured on the floor of the show itself. A large cordoned off area contained a complete wood shop, two benches and two young competitors. Signs saying "Don't talk to students while they are working" were posted around the shop area. The competition is called 2011Worldskills Cabinet making Qualifying Trial. The trials pit two top-scoring cabinetry students from the SkillsUSA chapter of Worldskills. Participants vie for the chance to represent the U.S. at the WorldSkills 2013 competition in Germany. Show participants can watch these young masters work throughout the show.
For more info on these organizations dedicated to skill training for youth all over the globe see:
www.skillsusa.org and www.worldskills.org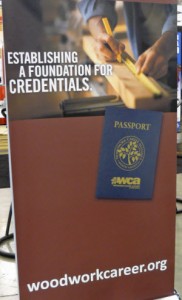 The Woodwork Career Alliance (WCA) was a unique vendor at this year's fair. Here's their mission statement: "The Woodwork Career Alliance of North America seeks to reward the workforce while helping to sustain and grow the woodworking industry."
They weren't selling tools or machinery, but a concept. Their goal is to establish skill standards for the woodworking industry. The standards are a systematic way of evaluating and documenting a woodworker's skills. The end result will make evaluating prospective employees an easier task for the woodworking industry while improving the marketability of aspiring career woodworkers.
The Woodwork Career Alliance was formed in 2007, when the USDA Forest Service awarded the Architectural Woodwork Institute (AWI) a grant of $92,000 to develop the Wood Manufacturing Skill Standards, Evaluations and Credentials Project. A work in progress, the WCA's Skill Standards Project should be complete by 2013. Phase one was aimed at creating a framework for development. Phase two focused on development of skills criteria and evaluation documents (the Passport). Phase three will bring the program to schools and industry throughout the U.S.
For more info see: www.woodworkcareer.org
Photos By Author