George and I had a great time at the 2011 AWFS show. We wore ourselves ragged checking out all the cool new tools unveiled at this years show. For those of you who couldn't make it this year, here's a quick look at some of the new tool highlights we discovered.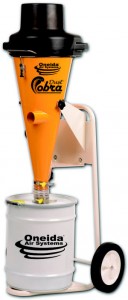 Oneida Cobra
Oneida's newest dust collector is a shop vac on steroids. Rated 90″ w/c at 260cfm, the Cobra boasts 3 times the air performance of most shop vacs. And of course, it wouldn't be an Oneida without a cyclone. The high efficiency cyclone on the Cobra removes 99.9% of the dust and spins it down into the collector barrel before it ever reaches the filter. The remaining air is scrubbed clean by a HEPA filter that stops 99.97% of particles down to 0.3 microns.
Designed for portable tools with 2.5″ or smaller dust ports, the Cobra is ideal for panel saws, routers, Dremel tools, carving tools, scroll saws, band saws, mini-lathes, and miter saws. The Dust Cobra comes with a wall mount bracket and a 10-gal. drum. There are no bags to empty. Larger drums are available as well as a mobile base.
Dust Cobra with standard motor: $690
Dust Cobra with brushless industrial motor:$926
Mobile Base: $189
www.oneida-air.com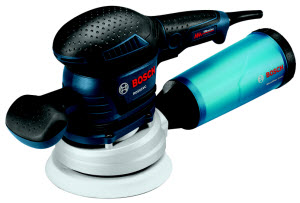 Bosch ROS65VC Low Vibration Sander
Bosch has introduced a new dual action sander that incorporates state of the art vibration reduction technology. It's the first random orbit sander to feature a vibration control suspension system to minimize vibration, and prevent hand fatigue The performance remains top notch while the operator enjoys a silky smooth ride and enhanced control. Another first on the ROS65VC is the ability to quickly change between either 5″ or 6″ pads. The 3.3-Amp motor produces plenty of power for both pad sizes.
The sander's dust collection system features a large Bosch Microfilter dust canister with an integrated paper filter and screw-off cap for easy emptying. Bosch also includes a vacuum hose adapter.
The ROS65VC will be available in October, with three different kit options. All include the tubular Microfliter dist canister, vacuum hose adapter and pad wrench. The ROS65VC-5 includes a 5″ backing pad and sanding disc, while the ROS65VC-5 includes a 6-inch backing pad and sanding discs. Both are expected to retail for $229-$239. The ROS65VCL will include both 5″ and 6″ pads and discs, plus a Bosch L-Boxx carry case that can be connected to other Bosch L-Boxxes for easy transport.
The ROS65VCL is expected to retail for $299-$319.
To find out more or to locate a dealer, visit www.boschtools.com or call 877-BOSCH-99 (877-267-2499).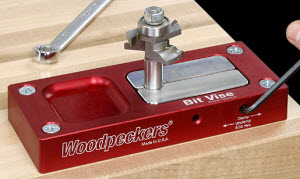 Woodpecker
Ever changed bearings on a router bit only to lose the tiny screw or have the spacer washer roll off the bench and disappear in the sawdust below? Woodpecker's new Bit Vise router bit holder features an aluminum block with four bolt-hole locations for permanent mounting to a work bench. Two stainless steel jaws operate with a basic hex key to hold a 1/2″ router bit shank tight leaving both hands free. A handy tray corrals small parts for safe keeping during the bearing change. For 1/4″ shank bits you can use a standard reducer collet. All Woodpeckers precision tools are machined in their own shop just outside Cleveland, Ohio.
Price: $99.99 For more info see: www.woodpeck.com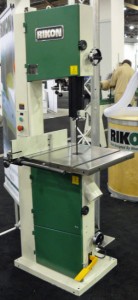 Rikon 10-350 14″ Bandsaw
Rikon has cherry picked the best features from their line of larger bandsaws to build their new 10-350, 14″ bandsaw. According to Rod Burrows, Rikon Vice President, this saw was so new it only had a brief 1/2 day stay at company headquarters before being shipped out to AWFS.
The saw comes loaded with great features typically found on larger saws. For example; the extra large 19-1/2″ x 21-1/2″ comes from their 18-in. model. The heavy duty frame and trunion system is original to their 16″ model.
The saw boasts a full 14-in. resaw capacity, a 2-speed drive system and two 4-in. dust ports for efficient dust collection.
Rikon added important safety features as well. A total of four micro switches prevent accidental start ups if a door is open or if the blade is untensioned (raise your hand if you've ever done that one.) The footbrake, something typically found only on larger saws, also has a micro switch for emergency shut-offs.
Rounding out the list of features are an LED light, a 3-1/4″ resaw fence, a resaw bar that attaches to the fence, tool free micro-adjust ball bearing blade guides and an optional mobile base.
There are two price points depending on the motor option on the 10-350:
$1499 with a 2.5 HP Rikon motor
$1799 with a 3HP Baldor motor
www.rikontools.com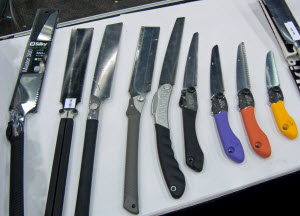 Silky Saws
Silky Saws have been around since 1917. That's a long time to be making saws, and they are good at it. Most silky saws are designed for the timber and horticulture industry, but they do have a solid line of woodworking saws. Made in Japan, these saws cut on the pull stroke. The blades are made from a unique alloy steel engineered and produced exclusively for Silky Saws. The teeth are laser-cut and impulse hardened for performance and durability.
What sets these saws apart from traditional Japanese saws are the handles. Silky Saws replaced the old wood and bamboo handles with ergonomically designed, rubber compound elastomer handles. These saws are comfortable to hold and offer superior grip for precision work.
My favorite saw at the show was their new folding handle saw. The handle splits in two and wraps around the blades. This saw can be stored in a drawer or taken to a jobsite without damage to the delicate teeth. See more at: www.silkysaws.com

Powermatic
Powermatic launched their Limited Edition Onyx Series at this year's AWFS. Designed to highlight Powermatic's 90th anniversary celebration, the Onyx Series includes seven of their stationary power tools and is available only through December 2011. Each machine sports a distinctive black "ONYX" finish with gold trim ( I call it their tuxedo look), plus the Powermatic 90th anniversary emblem. But the beauty of these tools is more than cosmetic. Each one comes with some value added features worth up to $500 plus a 90-month warranty (That's 90-months, not days. In other words, 7-1/2 years! Now that's what I call a warranty!).
Check 'em out at: www.powermatic.com
Here's a run down of the tools and their value added offers: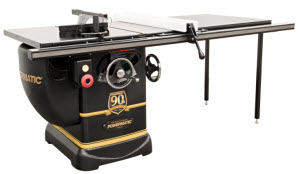 Powermatic 2000 10-in. Cabinet Saw, 3 HP,
230V, 50″ Accu Fence,
90-month warranty
$2,999.99
Value Added Package:
Set of 3 Amana AGE Series blades plus a 27″ x 42″ Workshop Anti-Fatigue Mat
Value: $200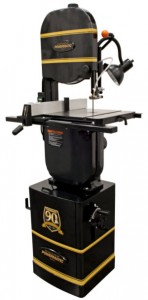 PWBS-14CS, 14-in. Bandsaw,
90-month warranty
$1,999.99
Value Added Package:
6″ riser block kit, 27″ x 42″ Workshop Anti-Fatigue Mat
Value: $185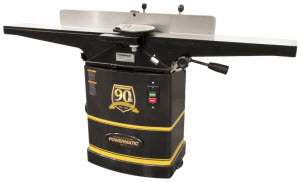 54HH 6-in. Jointer, 1 HP, 1 PH,
115/230V, with Helical Head,
90-month warranty
$1,399.99
Value Added Package: 27″ x 42″
Workshop Anti-Fatigue Mat
Value: $60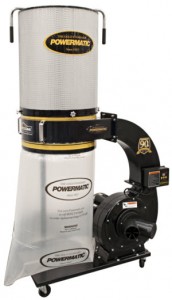 PM1300TX-CK Dust Collector, 1.75HP, 1PH,
2 Micron Canister Kit,
90-month warranty
$849.99
Value Added Package: 25 Collection Bags
Value: $85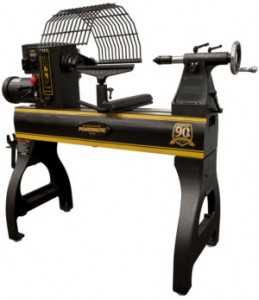 3520B Lathe, 20″ Swing, 2 HP,
1/3 PH, 220V,
90-month warranty
$3,999.99
Value Added Package: 18″ Bed Extension,
27″ x 42″ Workshop Fatigue Mat
Value: $500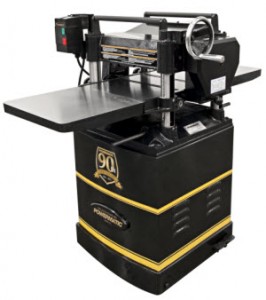 15 HH Planer, 3 HP, 1 PH, 230V,
90-month warranty
$2,999.99
Value Added Package: Digital Readout
27″ x 42″ Workshop Fatigue Mat
Value: $220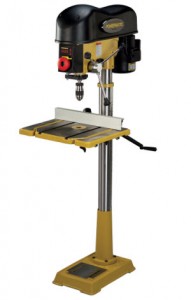 PM2800,18″ Variable Speed Drill Press,
1 HP, 1PH, 115/230V,
90-month warranty
$1099.99
Value Added Package:27″ x 42″ Workshop Anti-Fatigue Mat
Value: $60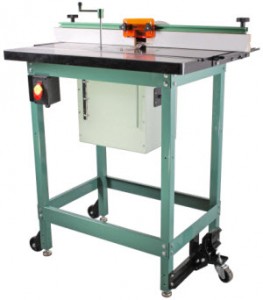 General International Excalibur Router Table
General International's new router table seems to have it all: A newly designed four post router lift that can take any size router without shims and make the heaviest cuts without deflection. The cast iron table has two miter slot grooves (3/8′ and 3/4″) on top and an enclosed router housing with a built in dust collection port underneath. A sturdy fence with a U-channel track and dust port rounds out the package. In the final stages of production, this table should be available sometime this Fall.
A smaller benchtop version is also available. The smaller cast top can be mounted to a tablesaw as a wing extension. Final pricing was not available at publication.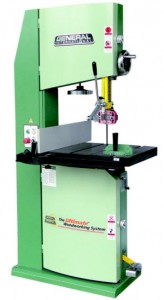 General International Model 90-290 M1 18″ Bandsaw
General's new bandsaw features a one-piece heavy duty steel frame with dynamically balanced 18″ cast-iron wheels and a 12-3/8″ re-saw capacity.
The 90-290M1 is equipped with a 3 HP 220 V single phase TEFC motor plus a large 24″ x 20″ cast iron tilting table. The blade guide system is top notch with upper and lower Bakelite guide blocks and a 5 bearing assembly that provides no less than 10 points of contact for precision cuts. The 90-290M1 also features a rack and pinion upper guide and guard system, dual 4″ dust ports and a safety foot brake.
The unit comes equipped with the new Excalibur deluxe band saw rip fence system with a removable 6″ auxiliary fence for resawing; onboard storage mounts for both the rip fence and the supplied cast-iron miter gauge, a magnetic safety switch with lock-out to prevent accidental or unintentional start-up and an innovative feed device that keeps fingers safely away from the blade when working with short cut-offs.
Cost: $2999.99
(price is valid until Sept 1st, 2011)
www.general.ca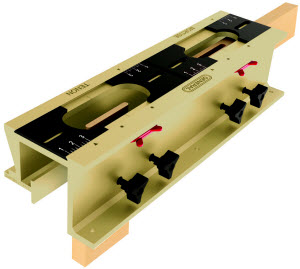 General Tools
Scheduled to be on the market soon, the E-Z Pro Model 870 Mortise and Tenon Jig from General Tools is the first easy to use, all-in-one mortise and tenon jig on the market. The big deal with the E-Z Pro is it allows you to cut both the mortise and tenon side by side on the same jig.
The Model 870 jig comes ready to use right out-of-the-box. Using a plunge router and the included bushings, woodworkers can cut a fully aligned mortise and tenon from 1/4″, 3/8″ and 1/2″ wide and 1″ to 3″ long (deep). The unit can be mounted directly on a workbench or onto a board that can be clamped in a vise or to a bench.
Cost: $149.96
See more at www.generaltools.com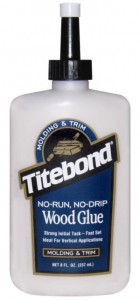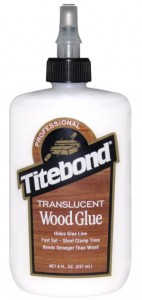 Titebond's Translucent Wood Glue and No-Run, No-Drip Wood Glue
Titebond debuted two brand new glues at AWFS Fair 2011: Translucent Wood Glue and No-Run, No-Drip Wood Glue.
Titebond Translucent Wood Glue has all the characteristics of Titebond Original Wood Glue but leaves virtually invisible glue lines when dry. In other words, woodworkers won't be able to see what makes Franklin International's newest Titebond wood glue so unique. Besides the transparent glue lines, Titebond Translucent Wood Glue also provides excellent bond strength, a four-to-six-minute working time and shorter clamp time. Once cured, Titebond Translucent offers higher heat resistance than typical PVA glues for more durable bonds over time and better sanding characteristics. And, because the glue is non-toxic, it's a safe glue to use when introducing children to woodworking.
Titebond's No-Run, No-Drip Wood Glue is the highest viscosity PVA wood glue on the market. It stays right where it's put, for easy, neat gluing of interior trim carpentry or small trim pieces on cabinets and furniture. It has a faster dry time then Titebond's Molding and Trim Glue, yet still provides three to five minutes of open time for repositioning. Its strong initial tack holds trim in place.
Titebond Translucent Wood Glue and No-Run, No-Drip Wood Glue is available in 8 and 16 ounce bottles. For more info, visit www.titebond.com or call Franklin International Technical Service at (800) 347-4583.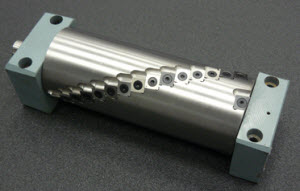 Delta
Delta recently moved their corporate headquarters to Anderson County South Carolina. Given the scale of a move like that, it was a pleasant surprise to see them at this year's AWFS show. Judging by the activity at their booth, Delta is alive and well and ready to do business.At a special reception held for the media Delta introduced several new and innovative products in their pipeline. One stand out was their new carbide helical cutterhead. A couple of notable features make this cutterhead different from the rest. One is the slight overlap of each individual cutter that give the cutter a continuous cutting edge as if it were a single blade. This reduces the number of cutters needed on the head which helps keep the cost down. Another unique feature of this cutterhead is an extra tooth set on the outboard edge of the cutter. The tooth is specifically designed for cutting rabbets on the joiner. Look for this product to be on the market soon in new tools and as a retrofit.
For more on Delta products go to: www.deltamachinery.com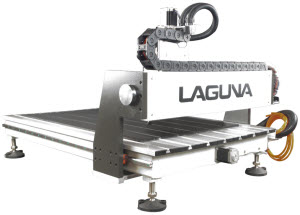 Laguna
Laguna introduced the newest addition to their CNC family at AWFS 2011. Designed for the small shop or serious hobbiest, the Laguna I.Q. is a compact version of their popular SmartShop Series of CNC routers.
The I.Q. features a welded steel frame, precision ball screws and a 1.5KW industrial 3-phase spindle, powered by an inverter so it can run on single phase power.
Laguna Tools is offering the I.Q. in two versions:
Laguna IQ $4995
This machine features a work envelope of 23.5″" x 35.5″, includes an industrial-grade liquid cooled electrospindle and hand held operator.
Laguna IQ Pro $6495 with Laguna "Touch" Series CNC controller, an industrial PLC-based controller developed by Laguna Tools and industry giant B & R; Work envelope is 24″ x 36″ – the LARGEST in its Class.
www.lagunatools.com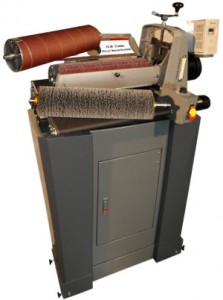 SuperMax
SuperMax is back in the small sander business in a big way with the introduction of their 19-38″ combo Drum/Brush Sander. The 19-38″ Combo Drum/Brush Sander carries features not found on other drum sanders. For example, it has an interchangeable, three head system. The sander ships with a 180-grit Flatter sander for contoured stock such as raised panel doors. An optional drum sander head is available for flat stock as well as a wire brush/distress head for cleaning up reclaimed lumber, denibbing seal coats, scuff sanding and distressing.
Another unique feature on the SuperMax is the preset, "fast" control lever that quickly adjusts the bed to eliminate the slight crown cantilevered drums produce when sanding wide stock. Other models require a cumbersome adjustment of the heavy head in order to achieve the same result.
The 19-38″ Drum/Brush Sander includes SuperMax's famous SandSmart technology that automatically controls feed rate for optimum performance and to avoid motor overloads.
The 1-3/4HP motor runs on a 20-amp, 120V service and comes with an AC inverter for variable head speed from 200-1800 RPM. With a minimum sanding thickness of 1/32″ this unit is ideal for woodworkers who like to make their own veneer. Other options include an open stand and a closed stand with casters.
Price: $2295
www.supermaxtools.com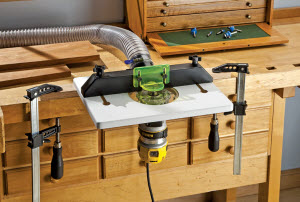 Rockler
True to form, Rockler unveiled a host of cool new products here at the AWFS.For starters, there's a portable Trim Router Table; the perfect marriage of convenience and mobility. The table is designed to clamp on any horizontal surface. The clear acrylic base stays on the router and pops out of the table for hand held operations. The Trim Router Table is conveniently sized at 11-1/2″ x 15″, making it easy to setup for small shop applications or using at a jobsite. Cost:
$59.99
Rockler's New Pocket Hole Clamp now includes a quick release button. A small change but a big improvement to an already useful tool.
Cost: $21.99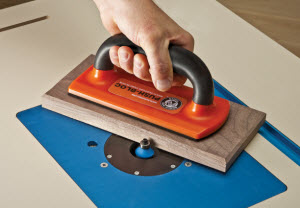 The Bench Dog Push Bloc is a new non-slip push tool from Rockler that uses the same high-friction rubber found on their famous Bench Cookies. An ergonomically correct handle adds safety and comfort for maximum control.
Cost: $9.99
Sawhorse Supports are ingenious steel brackets that turn an ordinary pair of sawhorses into a custom table. The hangers straddle the saw horse and allow you to add 2x4s of any length inside the horses. Drill holes in the 2×4 edge to add Bench Cookies for a non-slip support to the plywood top. The result is a strong, stable work table for finishing, assembly or to support a miter saw.
Cost:$12.99
www.Rockler.com
Photos by Manufacturer except Delta Cutterhead, Rikon Bandsaw, and Silky Saws by Author