Coverage of the AWFS Fair in Las Vegas, July 20-23, 2011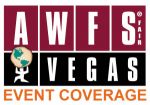 Check out WWGOA's coverage of the AWFS Fair 2011 in Las Vegas. Check out video interviews, new products and get the latest news in the world of woodworking.
Videos from AWFS:
Teknatool's NOVA Comet II Midi Lathe
Rikon 14-Inch Bandsaw
Microfence Interview
WWGOA's Guitar Break
AWFS 2011 Las Vegas Show Closing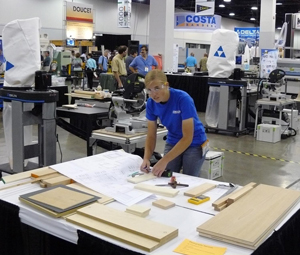 Skills Competition
There are a number of education related exhibits at this year's AWFS show including this live competition called "World Skills Cabinet Making Qualifying Trials." The students are in an open shop surrounded by signs that say, "Don't talk to students while they are working." Winners will be announced on Saturday.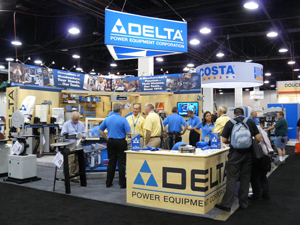 DELTA
The Delta booth was all a buzz. Delta expects some new tool launches soon now that they are settled in to their new headquarters in South Carolina.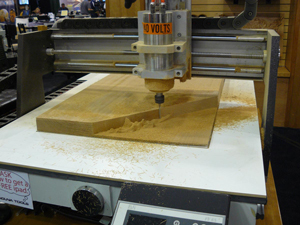 Laguna
Laguna is showing their new entry into the affordable CNC market The Laguna I.Q. "Small shops to production shops to serious hobbyists will appreciate the industrial features and benefits of the I.Q."In the photo the IQ is busy cutting a topo map of the United States. The Rockies are just coming into view.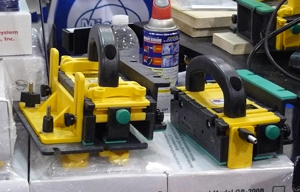 GRRR-ripper
Looking for the safest set of push blocks on the market? They're here at AWFS. The high tech GRRR-ripper push blocks from Micro-Jig take this simple accessory to a whole new level. The GRRR-ripper gives you complete control of stock, large or small, on any machine where a push block is used.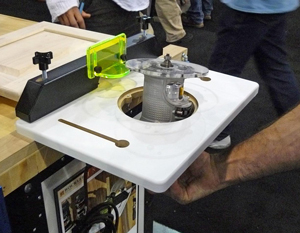 Rockler
As usual, Rockler has unveiled a host of cool new products here at the AWFS.
A router table for trim routers yields the perfect marriage f convenience and mobility. The table is designed to be clamped to just about any horizontal surface. The clear acrylic base stays on the router and pops out of the table for hand held operations.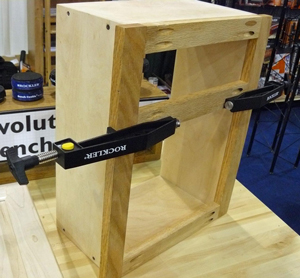 Rockler's New Pocket Hole Clamp now includes a elbow quick release button. Small change; big improvement.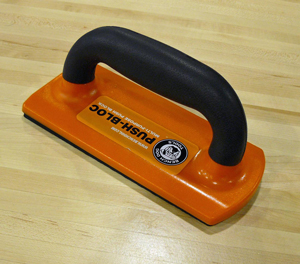 This non-slip push tool from Bench Dog gives you maximum control by using the same high-friction rubber used on their famous Bench Cookies all powered by you hand on an ergonomically correct handle.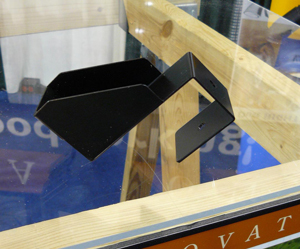 New steel brackets turn an ordinary pair of sawhorses into an adjustable table. The hangers straddle the saw horse and allow you to add 2x4s of any length inside the horses. Add a plywood top and you have a strong, stable work table for finishing, assembly or to support a miter saw.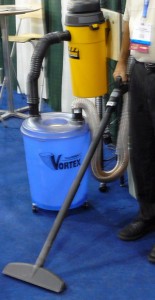 The Dust Right Vortex eliminates the loss of suction from a clogged filter by separating out most of the material ahead of the filter and depositing it into a 10-gal. bucket. Great tool at a great price $69.99.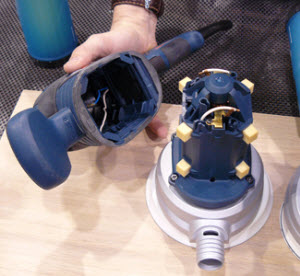 Bosch Low Vibration Sander
Bosch has introduced a new dual action sander that incorporates state of the art vibration reduction technology. The performance remains top notch while the operator enjoys a silky smooth ride. With the housing off, you can see the yellow closed cell foam pads designed to kill hand numbing vibration.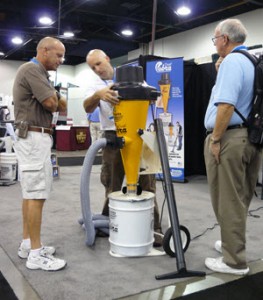 Oneida Cobra
Check-out Oneida's newest dust collector. Or is it a shop vac? You decide. The Oneida Cobra boasts 3 times the air performance of most shop vacs plus an amazing high efficiency cyclone that separates 99.9% of the dust before it hits the filter and spins it down into the barrel below. Whatever dust is left in the airflow hits a HEPA filter that takes out 99.97% of the particles down to 0.3 microns.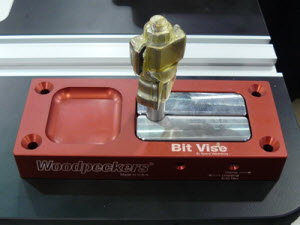 Woodpecker
Ever changed bearings on a router bit only to lose the tiny screw or have the spacer washer roll off the bench and disappear in the sawdust below? For me, holding a sharp router bit in one had an unscrewing the bearing with the other is asking for trouble. Woodpecker to the rescue. Their new Bit Vise router bit holder features a heavy base can be bolted to your bench while the adjustable jaws hold the bit firmly leaving both your hands free and safe from the cutters. A handy tray corrals small parts for safe keeping during the bearing change.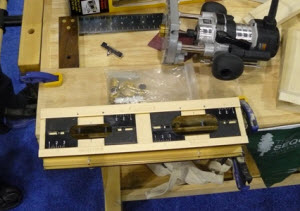 E-Z Pro Mortise and Tenon Jig from General Tools
Scheduled to be on the market soon, this is the first easy to use, all-in-one mortise and tenon jig on the market. The big deal with the E-Z Pro is it allows you to cut both the mortise and tenon side by side on the same jig.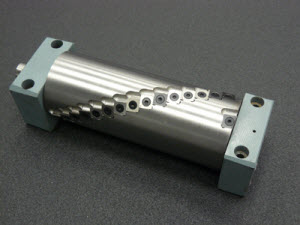 Delta Cutterhead
Delta Tools invited George and I to a reception after the show on Wednesday. There they unveiled some new tool innovations in their product pipeline. Some of the products are ready to launch while others are more in the "great idea" stage. One that stood out to me was this new carbide helical cutterhead. A couple of notable features make this cutterhead different from the rest. One is the slight overlap of each individual cutter. This gives the cutter a continuous cutting edge as if it were a single blade. Another feature you can see in the photo is an extra tooth set on the outboard edge of the cutter. The tooth is specifically designed for cutting rabbets on the joiner. Look for this product on the market soon.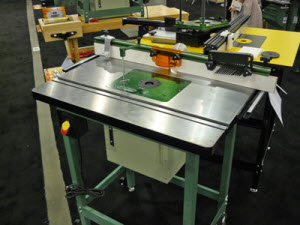 General Router Table
I was blown away by General International's new router table. In the final stages of production, this table should be available sometime this Fall.
A generous cast iron top is the first thing to grab your attention. But the top is just the beginning; there' also a beefy router lift mechanism set in the top. The lift is General's own design and features a four post lift mechanism that won't flex under pressure no matter what the router size or position is. Check-out the large, precision fence with U-channel for placing stops, guards and feather boards. Everything about this table says "top shelf".
George and I are shooting a video on the table later this morning. Check it out. Also I'll have more details in my upcoming article on new products from AWFS.

Rikon Bandsaw
Rikon has produced a real winner with their new 14-in. bandsaw. Rikon decided to cherry pick the best features from their larger line of saws and build them into this new saw. For example; the 16″ x 21-1/2″ table rivals the one found on their 16-in. model. A 13-in. resaw capacity, 2-speed drive system and two 4-in. dust ports round out this new saw.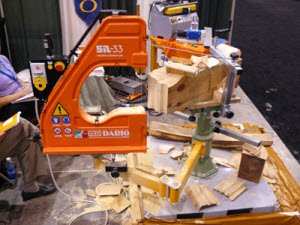 Dario
Timber framers are on the fringe of what we normally think of as woodworking. Part lumber jack, part carpenter, part cabinetmaker, these guys occupy their own niche. So, I was delighted and a bit surprised to find the Dario Articulated Bandsaw at this year's show. Designed to cut profiles in heavy timber this machine is fascinating to watch. It seems to float as it cuts and is capable of creating elegant shapes in huge timbers. The saw can be used with templates for pattern cutting or free-hand.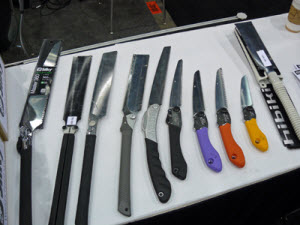 Silky Saws
Silky Saws have been around since 1917. Although the bulk of their saws are designed for the timber and horticulture industry, they do have a solid line of woodworking saws. Made in Japan, these saws cut on the pull stroke as you'd expect. What sets these saws apart is their handles. They've done away with the traditional wood and bamboo handles and gone to modern man-made materials. Some models even have folding handles that protect the blade and reduce the saw footprint down to where it can be stored in a drawer. Check them out at, www.silkysaws.com.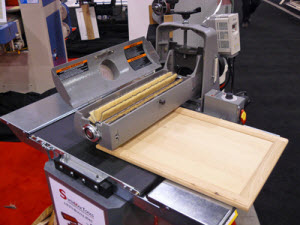 SuperMax
SuperMax has brought in a game changer onto the field of small drum sanders. The new 19-38″ Combo Drum/Brush Sander is truly unique with an interchangeable head system that allows you to drum sand flat stock, brush sand contours, or wire brush/distress boards. More to come on this machine for sure.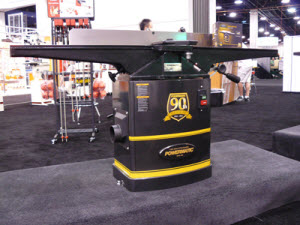 Powermatic
Powermatic is in the midst of their 90th anniversary celebration. To commemorate the birthday, they've dressed up their tools with a snappy black tuxedo look. But the beauty of these tools is more than cosmetic. Each one comes with some value added features such as anti-fatigue mats. Think of it as a birthday present. If you are in the market for a Powermatic product, now may be the best time to buy.