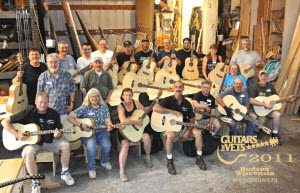 Despite uncooperative weather (heat, humidity, and rain) Build a Vet a Guitar 2011 went great. Thanks to great volunteers, and our sponsors, we were able to complete and repair 28 instruments for Guitars for Vets. For more information on Guitars For Vets visit
www.guitars4vets.org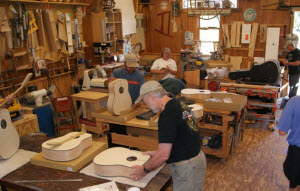 The first step was checking over the kits we bought from Grizzly.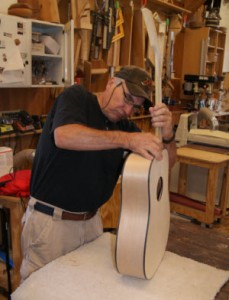 Next, we glued on the necks, paying careful attention to alignment between the neck and body.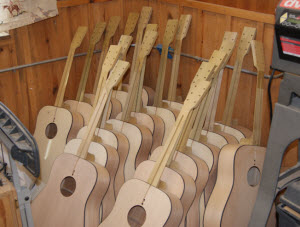 It took us about 4 hours to get necks on 20 guitars.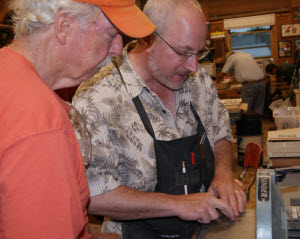 Contributing Editor Bruce Kieffer helps a volunteer make custom heel caps.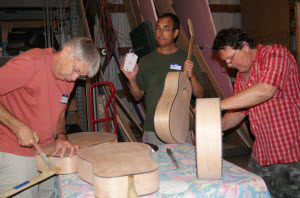 Sanding, sanding, and more sanding. Like any woodworking project, the devil is in the details.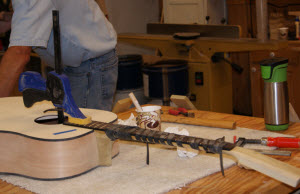 With the sanding complete we installed truss rods and glued on the fret boards.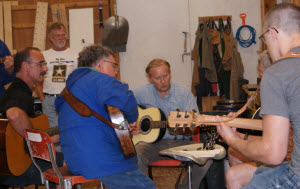 Don't want to let work get in the way of having fun! Impromptu jam sessions kicked in throughout the build.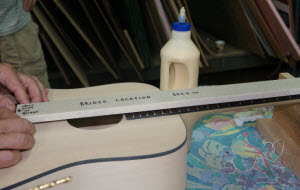 Correctly locating the bridge is very critical. A shop-made jig (thanks, Gordon) simplified the process.
The masked off guitars were suspended from the ceiling and sprayed with shellac. High humidity slowed down the drying process, but we managed to 'git 'er dun.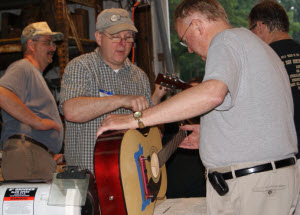 This year we added a task. In addition to assembling new kits, we repaired donated guitars. Tasks included removing and replacing bridges, replacing fret and tuners, and repairing cracks. These repairs added 8 guitars to our donation. Kudos to the volunteers who effectively pulled this off.
Thanks again to everyone who helped with this event, and this cause. It takes many hands to pull this off, and it couldn't happen if volunteers and sponsors weren't pitching in.
Photos by Mike Krivit and Emily Vondriska