A Brief Tour Of An Amazing Event
My first American Association of Woodturners (AAW) symposium was in Albuquerque, NM (2009). I was blown away by that experience. The depth and breadth of this year's Symposium, held within blocks of AAW's headquarters in St. Paul, promised to be yet another unforgettable experience. I was not to be disappointed.
Woodworking is a universal human activity and turning in particular seems to attract an international crowd. AAW members hail from all corners of the globe including; Argentina, Austria, Australia, Belgium, Canada, Croatia, the Czech Republic, Denmark, England, France, Finland, Germany, Iceland, Ireland, Israel, Italy, Japan, Luxembourg, New Zealand, Norway, Peru, Scotland, Slovakia, South Africa, South Korea, Spain, Sweden, Switzerland, Taiwan, the Netherlands, and Uruguay. Many came as exhibitors, demonstrators, collectors and participants. The sound of foreign languages added to the electricity you felt the moment you walked in the symposium doors. The charged atmosphere was heightened by the 25th Anniversary celebration of AAW's founding which explains this year's Symposium venue in AAW's hometown of St.Paul, Minnesota.
The entry fee starts at $250 and came as a shock at first glance. But then I realized the fee gives you a four day, all you can eat smorgasbord of demonstrations, panel discussions, classes, exhibits and galleries plus a full blown Trade Show. The entrance fee began to look like a bargain. The deal gets even better because the ticket cost includes the ticket holder's family. They can't see all the demos, but there is a host of free activities, galleries and demos available for family members young and old. For example: there are hands-on turning clinics for kids 10-17. Then there's the Craft Room for non-turning spouses where craft demonstrations are offered. Topics run the gamut from "Balinese Mask Carving" to a method for turning Tootsie Rolls into a rose. For a little extra money, you can sign up for some interesting local tours such as: "Best of Minneapolis", "Stillwater – Birthplace of Minnesota" and my favorite "St.Paul's Notorious Past" where you visit Chicago gangsters' summer hangouts.
Let's take a closer look at this year's show.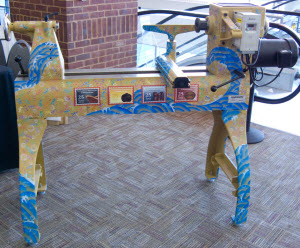 This
25th Anniversary
commemorative lathe greets symposium participants at the door. The heavy duty Powermatic lathe was painted by Binh Pho, a well know turner and wood artist originally from Viet Nam. The lathe was raffled off for $10 a ticket….
I didn't win.
Demonstrations are the heart of any AAW Symposium. There were 18 demonstration halls where the best of the best from an international body of wood artists taught an array of tricks and techniques. You'd be hard pressed to come up with a woodturning topic that was not covered. All demos are repeated at different times throughout each day so you won't miss a topic of interest.
The demos are designed for optimized viewing. Manned cameras get right in where the action is and put the picture up on a large screen for all to see. No need to crane your neck or shift in your seat to see what's going on. For a complete list of demo topics see: www.woodturner.org and download the Planning Guide for the symposium. Look for the "Rotations" schedule.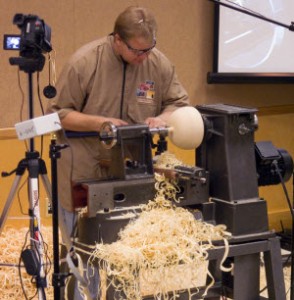 Jeff McClure gets the chips flying during his "Fundamentals of Bowl Turning" demo.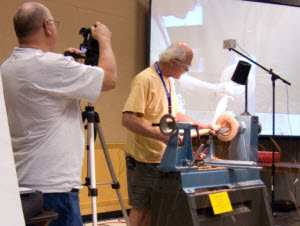 Jerry Kermode demonstrates the "Art of Non-Violent Woodturning". Jerry's message: relax and have fun.
If you're not in the mood for a live demonstration than consider one of the ongoing Panel Discussions. Hosted by woodturning luminaries and related professionals, the panels are an open discussion forum with lots of audience participation.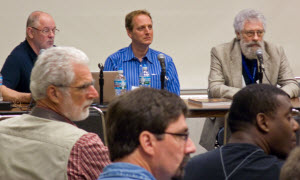 On this panel are from left to right, are Mark Lindquist, well known wood turner/sculptor; Kevin Wallace, museum curator and current Director of the Beatrice Wood Center for the Arts in Ojai, CA; and David Ellsworth, one of the founding fathers of the modern woodturning movement. Their panel discussion was "Legacy & Continuum in Woodturning". The room was packed and the discussion lively. Other discussions included "Craft Fairs", "Selecting Materials for Wood Art", and my favorite, "25 Years of Bad Wood Art".

The Youth Turning Sessions run all day long and are one of my favorite stops at the Symposium. Here, youthful joy and enthusiasm mix with the well seasoned volunteer instructors. Dozens of lathes encircle the room. A host of green shirted volunteers assist young turners as they create their own projects such as a Ball and Cup Toy, Textured Medallions, Tops, Pens and yes, bowls.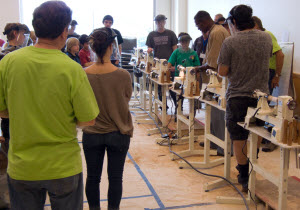 Avelino Samuel imparts his knowledge on turning long stem tops to an eager group of 10 – 17 year olds. All are anxious to turn their own tops to take home. Avelino is a professional turner from the Virgin Islands. This is the first year the Youth turning Sessions brought in wood artists like Avelino and Bonnie Klein to demonstrate for the kids.
Three Exhibits were housed in Ballroom "B" of the St.Paul River Center. The first exhibit, "Turning 25″, celebrates AAW's 25th Anniversary with select pieces from over 40 AAW chapters across America. Some pieces were by individuals picked to represent their chapter; others were collaborative efforts of several chapter members. The only restriction was size; 8″ x 8″ x 8″ maximum.
Here's a sampling: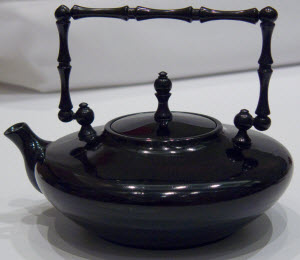 Black Pearl
Michael Gibson
African blackwood, Cuban mahogany
Chattahoochee Woodturners
Gainesville, Georgia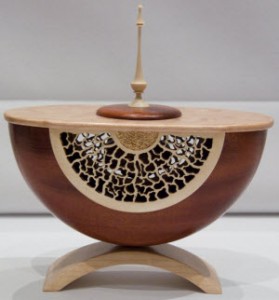 Hi-Yo Silver, Away
Alan Carter
African Mahogany, Maple, holly, silver paint
Chicago Woodturners
Palantine, Illinois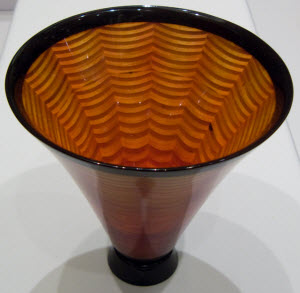 Sunrise
Kendall Westbrook
Baltic birch plywood, cocobolo, water-based fiber reactive dyes, lacquer
Gulf Coast Woodturners Association
Houston, Texas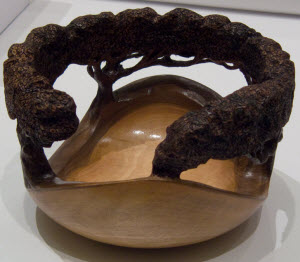 Trees on the Edge
Jeff Grill
Walnut
Grand River Woodturners Guild
Grand Rapids, Michigan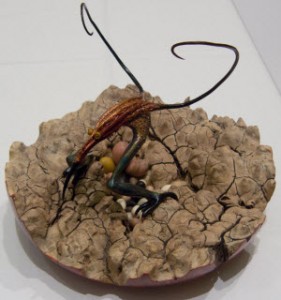 Lonely Vigil
James Johnson and Anna Rachinsky
Box elder burl, cat claw seed pod, Baltic birch, various woods, paint
Hill Country Turners
Kerrville, Texas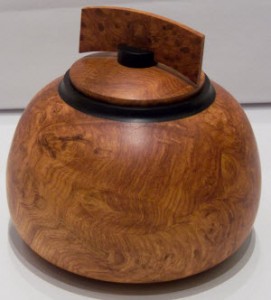 Serenity
Roger Soper
Amboyna burl, ebony
Woodturners of Southwest Florida
Fort Meyers, Florida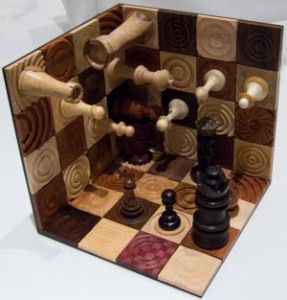 Chess Cube
Many Members
Many Woods
Massachusetts South Shore Woodturners
Abington, Massachusetts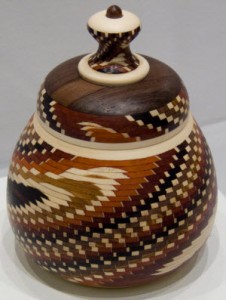 Kaleidoscope
Hal Metlitzky
Holly, permambuco, walnut, East Indian rosewood, osage orange, satine, rosily, Gabon ebony
Orange County Woodturners
Tustin, California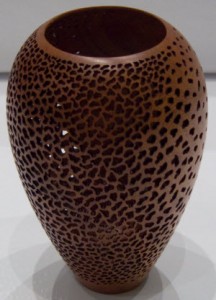 Pierced Cherry Vessel
Phil Lackey
Cherry
Rocky Mountain Woodturners
Fort Collins, Colorado
The Ellsworth Retrospective was the second exhibit. David Ellsworth is perhaps best known for his hollow forms as well as a keen eye for balance and beauty.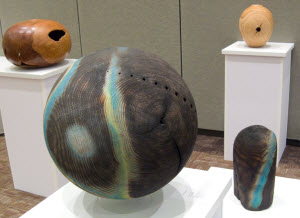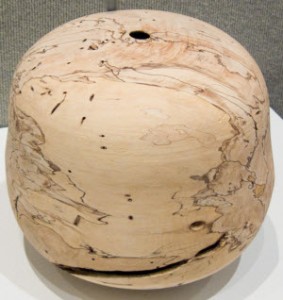 Some of David's early designs in the "Solstice" series
The third exhibit entitled Roots-An Artist's Voice is the fifth in a series created by AAWs Professional Outreach Program (POP). All the pieces were done by pros and auctioned off to help support other POP programs such as the Instant Gallery Awards and Panel Presentations.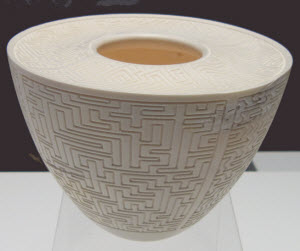 Journeys
Dewey Garrett
Livermore, California
Bleached maple from "a tree that greeted me for thirty years".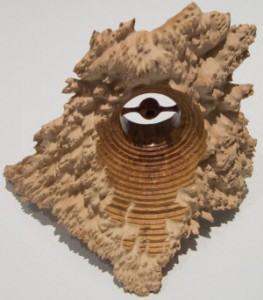 My Father's Eye
Terry Martin
Towing, Australia
Mallee burl, carnauba wax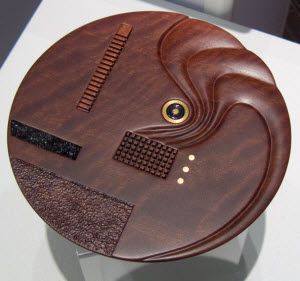 Wave Maker
Vaughan Richmond
Warwick, Australia
Jarrah, western myail, brass, buffalo horn, tree resin, industrial diamonds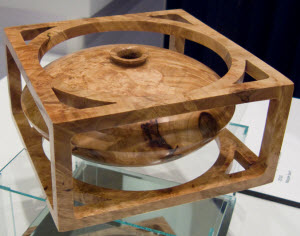 Thinking Inside The Box
Ron Gerton
Richland, Washington
Maple Burl
Yes – this was turned intact from a single block of wood. The bowl has never been outside the box and floats free inside the box.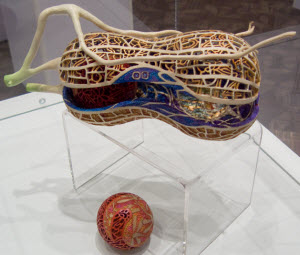 Descending Dream
Binh Pho
Maple Park, Illinois
Box elder, maple, acrylic paint, lacquer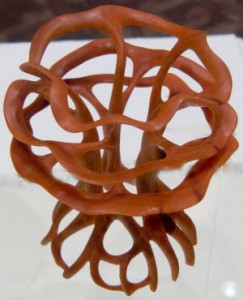 Good Tree, Good Roots
Alain Maillard
Uzes, France
Monkey pod
Our next stop is the Galleries section of the show. There were no fewer than 7 galleries on one gigantic floor. Are you ready? Let's go.
The first gallery to catch my eye was dedicated to Virgil Leih. Virigil mounts 400-3000 pound rescued tree trunks on an 8000 pound Oliver lathe and turns them into enormous sculptures. He dries his blanks in a 4′ x 4′ x 8′ microwave he designed. Virgil thinks big.
You can see more at www.virgiltreeart.com

The
National Treasures
gallery was a real treat. Various internationally acclaimed wood artists were asked to create pieces using historical woods harvested from places such as Washington's Mt. Vernon estate and Jefferson's Monticello. The program says it best: "'National Treasures' celebrates the events that formed our nation, influenced our way of life, and inspires our world today."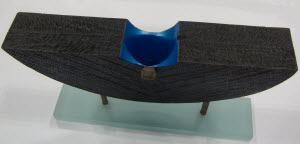 A Journey of Hope
Emmet Kane
Ebonized Rappahannock River Crib Dam Pine (1854), paint, glass, wrought iron spikes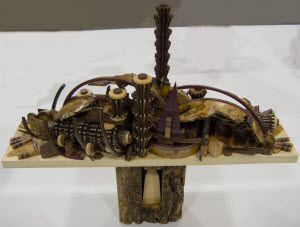 Washington
Po Shun Leong
Various woods planted by George Washington at Mt. Vernon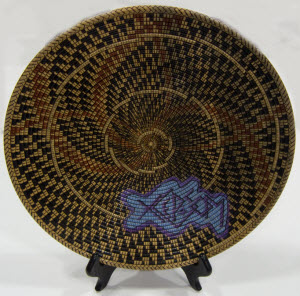 Tagged
David Nittmann
Tulip poplar from Jefferson's Monticello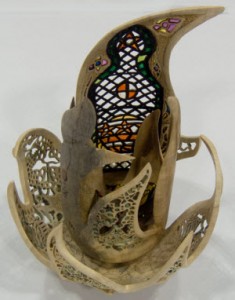 Linking Arms
Joey Richardson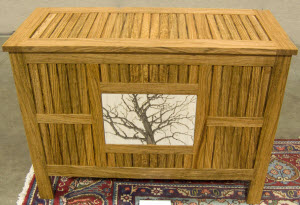 Mount Vernon Ash, horse chestnut planted by George Washington

Mt. Vernon Blanket Chest
Duncan Gowdy
Mount Vernon Scarlett Oak
How about that – furniture at a turning symposium.
Now we enter the Instant Gallery area. This is an open show where anyone can bring their work for display and even receive constructive criticism of their work from the experts. Participants can also enter their pieces in the Education Opportunity Grant (EOG) silent auction. Proceeds are used by AAW to fund grants to wood artists everywhere. First we'll look at some of these silent auction pieces, then we'll move on to the Chapter Cooperative Challenge where chapters from around the world pool their efforts to put on display. We'll also check out the Collectors of Wood Art (CWA) where art collectors can sell or display some of their favorite pieces. We'll end the tour with a look at some of the great stuff pros and amateurs alike brought to the Instant Gallery.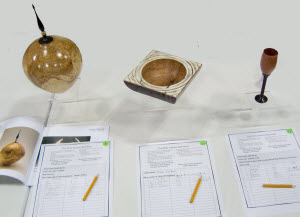 EOG Auction
These are just a few of the pieces set out for bids.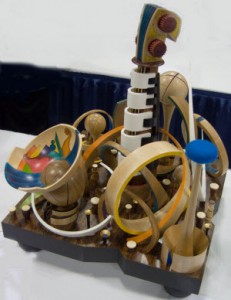 Chapter Challenge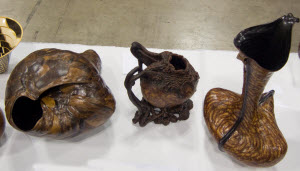 Collectors of Wood Art (CWA)
David Bennet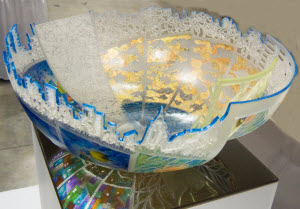 Binh Pho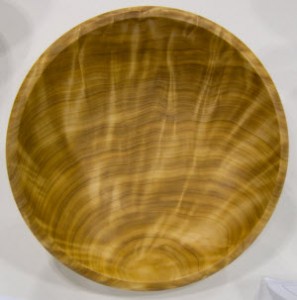 Solar Flare
Steve Dyni
Cedar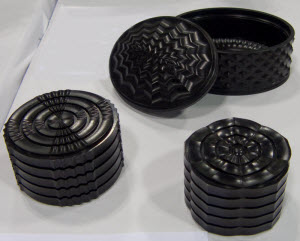 Ribbon Boxes
Joshua Salesin
African Blackwood
Formed on a rose engine lathe from a single block of reclaimed wood. You can see what a rose engine lathe looks like in my companion story on the Symposium's Trade Show.)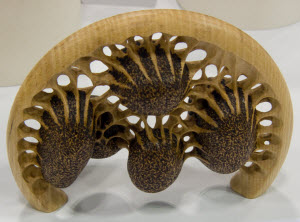 Untitled
Satoshi Fujinuma
Hickory
More from the Instant Gallery: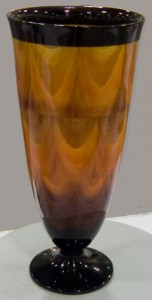 Sunrise/Sunset
Kendall Westbrook
Baltic birch plywood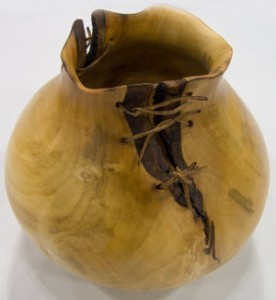 Olla ll
Ric Romano
Maple with bent wood ties
Miniatures
Alan Leland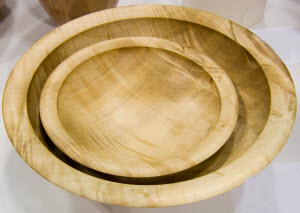 Pair of Salad Bowls
Allen Jensen
Silver Maple
Nice to see some good ol' basic bowls that are meant to be used.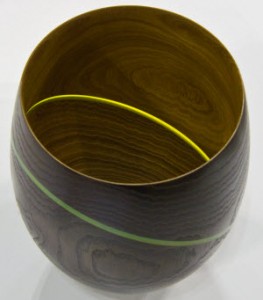 Luminaissance Series
Jerome Blanc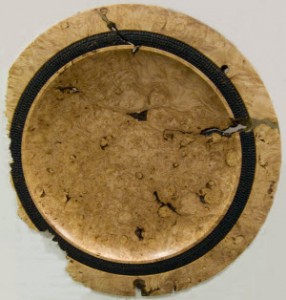 Maple Burl Bowl
Rex Burningham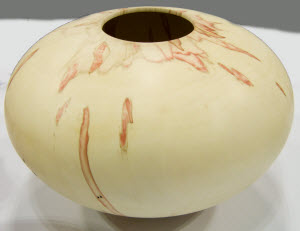 No Title
Pot
David Fry
Japanese pagoda tree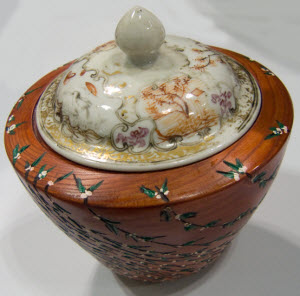 Summer Time
Alan Adler
Vase with antique porcelain lid, stained, pyro, paint
Great use for a broken tea pot!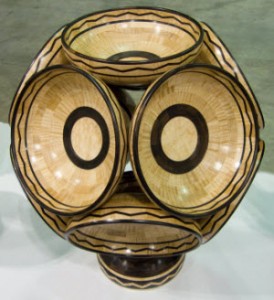 You Get No Bread With One Meatball
Malcolm Tibbetts
Ebony and maple
Hope you enjoyed the show!
Next year's symposium is in San Jose, California. Go to www.woodturner.org for more information.
Photos by Author (unless otherwise noted)